It's not everyday that we can compare criminals with the same name. It's also pretty strange that those criminals live over a hundred years apart.
So what am I talking about? Well, back on February 12th, 2016, a newspaper article in the Saginaw News reported how local prosecutors issued warrents for the former assistant Saginaw Township Fire Chief. The reason is that he supposedly embezzled at least $100,000 from a Saginaw, Michigan, church.


George W. Pike, age 70, was charged with embezzling large amounts of money from the trust fund of St. John Lutheran Church which is located at 915 Federal Ave in downtown Saginaw. That church is one of Michigan's oldest as it was founded in 1852. It belongs to the Evangelical Lutheran Church in America.
Pike served as St. John's council president. His arrest warrant stated that he had embezzled more than $100,000 in a period from 2011 through 2015. In the state of Michigan, embezzlement is a felony that carries a maximum penalty of 20 years in prison. Besides the embezzlement charge, 70 year old George Pike was charged with two counts of "forgery and uttering and publishing a forged check with intent to defraud." Those charges carry 14 year maximum penalties if he gets the max.

George W. Pike turned himself in and went before Saginaw County District Judge M.T. Thompson. The judge entered a not guilty plea on his behalf, and Pike posted a $25,000 bond and was scheduled to appear.
On June 28th, 2016, George W. Pike appeared in court and pleaded no contest to embezzlement of the more than $100,000 from the church. In his defense, Pike said that he wrote checks to himself for cash and then gave the cash to needy churchgoers. He also spent it on church functions. Supposedly it was only later that he had began writing checks for himself.
According to reports, George W. Pike of Saginaw, Michigan, was sentenced to a year in jail after paying $25,000 in restitution.
While George W. Pike may have became known as an embezzler in Saginaw in 2016, there was another George W. Pike who was a known rustler and horse-thief in the Wyoming Territory in the late 1800s and very early 1900s. And frankly, why he wasn't taken out and hanged is a true mystery to me.
That George W. Pike was supposedly born in 1863 in Iowa. His story is sketchy at best, but supposedly he left his family home at age 13 and headed to Texas where he worked for a few cattle outfits during a number of cattle drives headed north to Kansas railheads starting in the late 1870s.
Pike is believed to have arrived in the Fort Fetterman area in the Wyoming Territory in 1886. There are a lot of myths that Pike himself was known to bolster regarding George W. Pike. One such myth has to do with his gun handling capabilities. He supposedly attracted a great deal of attention with his ability to shoot better than anyone alive. One story about his skills with a pistol talks about how he was able to shoot the buttons off of a man's vest from 40 feet away with any pistol handed to him. This is the sort of Old West myth that's bait for sucker-fish who believe things like this hook, line, and sinker.
As for his livelihood, how he made money to support himself, some say he was a cowboy, a stock tender, a gambler, and even a miner. But mostly, people say he was a rustler and horse-thief who lived in a shack in Douglas. Douglas was established in 1886 when the railroad arrived. The area was actually settled in 1867 with the establishment of Fort Fetterman which is about 11 miles north of Douglas.
Another legend about George W. Pike has to do with his gambling. That story has to do with his being cheated in a card game. After losing all of his money, he simply got up and left the poker game without saying a word. Then, as the story goes, a bandit walked in to rob the game a few minutes later. The bandit was the same height and weight as Pike but was supposedly dressed in ragged clothing with his hat pulled down low. The bandit held up the poker game and took $500 before leaving.

The rest of the story goes that after a few minutes, Pike returned with more money and the victims never knew the bandit was Pike. So imagine if you would no one suspecting that it was Pike? This myth is as laughable as old Western movies where a bandit puts a handkerchief over his mouth and nose, and that's all it takes to disguise himself. Another version of this story says that he came back dressed as a hobo so that no one knew who he was, supposedly because he was such a spiffy dresser.
While the truth behind such myths are really anyone's guess as to whether or not it's true or not, it's said that Pike was employed by Lee Moore who was a Douglas rancher. Moore is said to have been suspected of increasing the size of his herd through rustling and Pike became a part of that shady business.
After Pike got married, he too started a ranch outside of Douglas said to have been stocked with other people's cattle and horses. So besides being known as a cattle rustler, he was purportedly a known horse-thief as well. In fact, legend says that everyone around there knew that George W. Pike was a rustler and horse-thief. And supposedly, he wasn't a dumb criminal. In fact, it's said that whenever ranchers "filed complaints" with the law, or took him to court, in every instance Pike had an alibi.
At one point, Pike was arrested for stealing a horse and saddle. His attorney, Fred Harvey who was known to defend rustlers in the area, argued that Pike didn't steal the horse even though the law had found the stolen saddle at Pike's home. Harvey said that finding the stolen saddle did not prove that Pike stole the horse since the horse was no where to be found. In that instance, supposedly Pike argued that someone else had placed the saddle at his home to get even with him. Believe it or not, he was not convicted and set free.

There is a story about how a Wyoming cattle baron by the name of Robert Carey stormed into a saloon where Pike was drinking. He accused Pike of stealing cattle in front of everyone there. Carey told Pike that he ordered his cowboys to shoot and kill him if he was ever seen stepping foot on CY ranch land. Pike is said to have turned white and quickly offered to pay Carey twenty dollars to forget the whole matter.


Soon after that, George W. Pike is said to have sold his ranch and hired out as a cowboy. I read where he got a number of offers to go to work for the very ranches that he stole from. The idea behind that myth is that they felt having him as an employee was a way to safeguard their own stock. The idea being that their own stock would be safe from the biggest rustler around. Of course, that doesn't make any sense since it wasn't completely out of the question for a hand to rustle from their employer. Yes, no different than any other sort of employee theft.
I have a hard time believing that Wyoming ranchers let Pike live while knowing that he was a rustler and horse-thief. Wyoming has a history of hanging rustlers during that time period. Some of those that were hanged were merely suspected of rustling. Some were hanged as rustlers merely as an excuse to hang them.

That was the case on July 20th, 1889, when a Wyoming Stock Growers Association range detective accused Ella Watson of stealing cattle from a fellow rancher by the name of Albert John Bothwell. Riders were sent to seize Ella, and they also capturing her husband Jim Averell as well. Some say both of them were hanged over water, and that the accusations of rustling was just an excuse to hang them. So knowing this, I have a hard time believing that George W. Pike was somehow allowed to live consequence free to rustle whenever he pleased.
As for Pike's death in 1906, there's a myth about that as well. Believe it or not, there's a version of his death that's incredibly hard to believe. That story says Pike actually died of a heart attack after winning a large hand in a poker game in a local saloon in 1908. But frankly, that's not all there is to that tall tale as it gets better.
Supposedly, as the story goes, even though Pike was dead, the other gamblers saw it as impolite for him to quit while ahead. Yes, even though he was dead. So the remaining players supposedly propped up Pike while a bystander kept playing the hands dealt to the dead George W. Pike. The rest of that tale is that Pike's winning streak actually continued. The myth goes on to say that his winning streak kept going to the point that the dead man actually made enough money to give himself an extravagant funeral and buy a massive headstone.

While that's another wonderful Old West myth, fact is it was reported by a local newspaper that George W. Pike actually died in 1906 in a local hospital. He died from a long standing liver ailment. It was also reported that donations were taken to pay for his burial and suitable marker.
In the Douglas Park Cemetary lie the remains of a rustler and horse-thief. A man who was what most believed to be a colorful character who spun many a tall tale about how he outsmarted the Wyoming Stock Growers Association and lived to talk about it.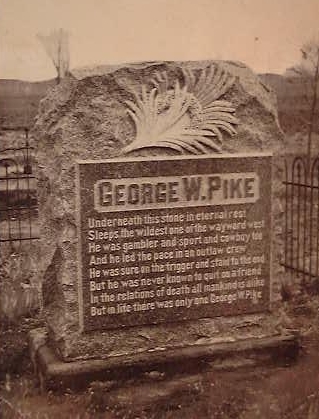 George W. Pike Grave Stone, Douglas Park Cemetery:
Underneath this stone in eternal rest
Sleeps the wildest one of the wayward west
He was a gambler and sport and cowboy too
And he led the pace in an outlaw crew
He was sure on the trigger and staid to the end
But he was never known to quit on a friend
In the relations of death all men are alike
But in life there was only one George W. Pike
Pike was buried north of the town of Douglas in 1906. He is said to have been moved to the Douglas Park Cemetery in 1908 when his headstone arrived from Denver. As for his colorful poetic epitaph? No one knows who really composed what's written on Pike's gravestone. A popularly myth about that says that it was written by a close friend of his who worked as a bartender at Lee Pringle's College Inn Bar. Imagine that.