The first automobile is generally considered to have been invented in 1886, making it just over 125 years old. And yet, even though they haven't been around that long historically, cars are among our most primal obsessions. Today, learning to drive is a profound rite of passage. Many see sliding behind the wheel for the first time symbolic of freedom. Not surprisingly, the last 125 years have provided us with a great deal of awesome automobile trivia.
How About Putting Automobiles In Prospective!
1782
-- James Watt builds the first engine crank.
1792
-- The first U.S. toll roads opened in PA and CT.
1860
-- Jean Lenoir invents the spark plug.
1887
-- The Benz became the first car offered for sale.
1893
-- Vehicle licence plates were first implemented in 1893 in France and were called "number plates".
1895
-- The Duryea Motor Wagon Company, established in 1895 in Springfield, Massachusetts, was the first American firm to build gasoline automobiles.
Founded by Charles Duryea and his brother Frank, they built the Duryea Motor Wagon, a one-cylinder "Ladies Phaeton", first demonstrated on September 21, 1893 in Springfield, Massachusetts, on Taylor Street in Metro Center.
It is considered the first successful gas-engine vehicle built in the U.S.
1896 -- In May of that year, while driving his Duryea Motor Wagon through Manhattan, Henry Wells hits a bicycle ridden by Evylyn Thomas sending the woman flying in what is purported to be the first documented auto accident. Thomas spent the next few days in the hospital nursing a fractured leg. Wells spent the night in jail.
It is unknown what happened to the bicycle or the Duryea Motor Wagon, but at that point it had to be clear to at least some, that this type of incident, although it maybe the first, would certainly not be the last.
1897 -- The first auto insurance policy is purchased in Westfield, MA.
1898 -- The first cars did not have steering wheels. Drivers steered with a lever. The New York City Police Department used bicycles to pursue speeding motorists in 1898.
1899 -- DeDion Bouton built a small, but high-speed one cylinder engine.
1900 -- Oldsmobile was the first car to be produced in high volume.
1900 -- The first Guide Michelin published mostly containing a list of gas stations in France.
1901
-- The first Grand Prix race was won with an average speed of 46 mph.
1901
-- The first American car manufactured in any quantity was the "Curved Dash" Oldsmobile, which was offered for $650.
1901
-- License plates attached to the front and back of your vehicle were first implemented on April 25th, 1901.
The state of New York became the first in the US to implement license plates. According to the traffic laws of New York, the vehicle owner was required to pay one dollar as a registration fee and the Secretary of State was required to maintain the record of owners in alphabetical order to easily identify the vehicle with the particular owner.
Separate initials of the owner's name were to be placed on the back of the vehicle where the letters must have a height of at least three inches.
1901
-- The state of Connecticut passes the first automotive speed law limiting automobiles to 12 mph in the city and 15 mph on country roads.
The law also required drivers of motor vehicle to slow or even stop when approaching a horse drawn conveyance so as not to scare the horse. This led to a sporadic, and inconsistent application of motor vehicle laws.
1902
-- Léon Levavasseur took out a patent on a light but quite powerful gasoline injected V8 engine.
1902
-- Seat belts first fitted to a motor vehicle was in a Baker Electric streamliner racer which crashed at 100 mph. on Staten Island.
1903 --
The Charles Miller Automobile Supply Company publishes its 5th catalog of auto parts and accessories.
Among the items in this edition is the "World's Best Buffalo Robe" for $10, a must for driving an open touring car in cold weather. Other items include driving goggles for $3, leather automobile coats for $8, leather pants for $6, gauntlet driving gloves for $2 and leather driving cap, also $2.
Unlike similar catalogs of 50 years later, there was no mention of fiberglass auto body repair kits, touch-up paint, "suicide" knobs, Continental kits, or fuzzy dice.
1904 - The world's first speeding ticket was issued in Dayton, Ohio.
Dayton, Ohio, police ticketed Harry Myers for going 12 mph on West Third Street.
1904
-- The car first referred to itself as a convertible was the 1904 Thomas Flyer, which had a removable hard top.
1907
-- The U.S. production car that had the largest 4 cylinder engine was the 1907 Thomas sported a 571 cu. in. (9.2 liter) engine.
1908
-- The "Model-T" was the first car to be mass-produced. Henry Ford introduced the assembly line in December of 1908, and as a result he was not only able to mass-produce the Model-T, but was able to offer it to his customers at a much lower price than the competition.
1909
-- Bugati, which was founded in Molsheim in 1909, started out German, yet became French after World War I. It became French when Alsace returned to French rule.
1909
-- The first official White House car was a 1909 White Steamer, ordered by President Taft.
1910
-- Magician Harry Houdini was the first solo pilot to fly a plane in Australia. He taught himself to drive an automobile just so he could drive out to the airfield – and he never drove again.
1910
-- Ford produced the first "Panel Truck".
A panel truck is a windowless cargo van built on a truck chassis. A panel truck is similar in function to its smaller cousin the sedan delivery, a station wagon with no backseat and no side windows aft of the front doors. Both types of vehicles are frequently used as delivery vehicles.
1911
-- The first US produced 4wd prelude to the truck was built in 1911 by Zachow and Bosserdich Four Wheel Drive Auto Company.
1911
-- Chevrolet Motor Car changed to Chevrolet Motor Company when it was incorporated in 1911 by William C. Durant.
1911
-- The first rear-view mirror was used by car-racer Ray Harroun.
He didn't have room in the car for a mechanic (part of whose job would be to look for cars coming from behind) so he found the way to mount a mirror.
1913
-- The first car station was a Gulf service station which opened up the first station in Pittsburgh in 1913.
1914
-- Cadillac produced the first American V8 engine, the 1914
L-Head
. It was a complicated hand-built unit with cast iron paired closed-head cylinders bolted to an aluminium crankcase, and it used a flat-plane crankshaft. It was a 90° design with an L-head (sidevalve) configuration and was water-cooled. Bore was 3.125 inches and stroke was 5.125 inches, for a total of 314 cubic inches of displacement. Output was 70 hp.
1914 Cadillac
Peerless followed, introducing a V8 licensed from amusement park manufacturer, Herschell-Spillman.
1914
-- The Chevrolet bow-tie emblem first appears.
1914
-- The first electric traffic light was installed in Cleveland.
1914
-- Cleveland, Ohio, was the first city in the United States to get a traffic light.
1915
-- The first car to have the horn button in the center of the steering wheel was the 1915 Scripps-Booth Model C. The car also was the first with electric door latches.
1915
-- The first production V12, as well as the first production car with aluminum pistons was Packard's Twin-Six. Used during WWI in Italy, these motors inspired Enzi Ferrari to adopt the V12 himself in 1948.
1916
-- Ford produces 55% of the cars in the world were Model T Fords, a record that has never been beaten.
1917
-- Chevrolet produced an overhead valve V8 in 1917, in which the valve gear was completely exposed.
It only lasted through 1918 and Chevrolet would not produce another V8 until the introduction of the small block in 1955.
1921
-- The first drive-in restaurant in the United States was Royce Hailey's Pig Stand which opened in Dallas in 1921.
1922
-- The first gas gauge appeared in cars. Prior to that, most cars ran until they were out of gas.
1922
-- Essex introduced the first affordable enclosed automobile (sedan), which shifted the auto industry away from open vehicles to meet consumer demand for enclosed automobiles
1923
-- Star (a division of Durant Motors) was the first car company to offer a factory-built station wagon.
1923
-- A total of 173 new inventions by women for cars had been reported. Among these inventions were a carburetor and an electric engine starter.
1923
-- Powered windshield wipers became standard equipment on many cars.
1923
-- A radio was first offered as an accessory.
1924
-- The first car fitted with a replaceable cartridge oil filter was the 1924 Chrysler
1925 -- The lowest priced mass produced American car was the 1925 Ford Model T Runabout.
It cost $260, which was $5 less than it cost in 1924.
1925
-- While the first "panel truck" was in 1910, the first factory-assembled pickup truck was based on the Ford Model T car, with a modified rear body.
It debuted in 1925 and sold for $281. Henry Ford billed it as the "Ford Model T Runabout with Pickup Body."
The 34,000 trucks built that year featured a cargo box, adjustable tailgate, four stake pockets and heavy-duty rear springs.
1927
-- By that year Ford had sold more than 15 million Model-Ts
1927
-- Chevrolet became the number one selling car company in the United States.
In 1929 and 1930 Ford won the sales race but Chevrolet countered from 1931-1934 as the leader. In 1935 Ford regained the lead in total cars sold, but not for long. Chevrolet got the crown back in 1936.
With the exception of 1957, Chevrolet was number one from 1936 to 1976 and several years beyond that.
1928
-- In 1928, the Model A replaced the Model T, introducing the first closed-cab pickup.
It sported innovations like a safety glass windshield, roll-up side windows and three-speed transmission. It was powered by a four-cylinder L-head engine capable of 40 horsepower
1930
-- Twelve states still had not imposed a speed limit on their roads.
1930
-- The first person to win the Indianapolis 500 at a speed of over 100 MPH without a relief driver was Billy Arnold who won in 1930 with an average speed of 100.448 MPH.
1930
-- Charles Creighton and James Hargis spent 42 days on a round trip from New York to Los Angeles using only reverse gear. The two men drove in a Ford roadster, which was left running the entire time.
1930
-- The first successful series-production hydraulic valve lifters were used in the 1930 Cadillac 452, the first production V16
1930
-- In January, Cadillac debuted it's V16 in a car named for a theatrical version of a 1920′s film seen by Harley Earl while designing the body. The care was called the "Madam X", and was a custom coach designed by Earl and built by Fleetwood. The sedan featured a retractable landau top above the rear seat.
Cadillac's gasoline-fueled V16 engine models were used in the Cadillac V-16 automobile, the first from 1930 until 1937, and the second between 1938 and 1940. The company has twice attempted to build a new V16 engine, once in the 1980s and again in 2003, but none have been put into production.
Cadillac also built a V12 engine from 1930 through 1937. It retained the 45° vee-angle and displaced 368 cubic inches from a 3.125 inch bore and 4 inch stroke. Output was rated at 135 hp with two carburetors. All of engine wiring and hoses were hidden from view.
1932
-- Ford was the first company to use V8s
en masse
.
Instead of going to an inline six like its competitors when something larger than an inline four was needed, Ford designed a modern V8, the
Flathead
.
1932
-- In 1932, the 65 horsepower (48 kW) Ford flathead V8 engine was offered as an option in their trucks.
1933
-- The first drive-in movie theater opened in Camden, N.
1933
-- Rolls Royce changed their "Double-R" badge from red to black.
1933
-- Swallow Sidecars (aka SS) manufactures the first Jaguar
1934
-- The two-door 1934 Chevrolet Master coach outsold every other 1934 Chevy model.
1934
-- The last car the criminals Bonnie Parker & Clyde Barrows drove was a 1934 Ford Model 730 Deluxe Sedan like the one below.
A few months before being shot to death in their 1934 Ford Model 730 Deluxe Sedan, believe it or not, Clyde Barrows wrote Henry Ford a letter of endorsement stating:
"I have drove fords exclusively when I could get away with one. It has got every other car skinned, and even if my business hasn't been strictly legal it don't hurt anything to tell you what a fine car you got in the V-8″.
1935
-- The first parking meters started use in Oklahoma City, on July 16, 1935.
1936 -- By 1936, Ford had already produced 3 million trucks and led the industry in sales

1936 -- Volkswagon won millions of buyers worldwide using the concept of a small car and simple design. It had a dependable air cooled engine and its simplicity made it easy to fix.
1938 -- Buick introduced the first electric turn signals.
1939
-- Buick introduces turn signals as standard equipment.
1939
-- Chrysler starts building tanks for the U.S. Army.
1941
-- During World War II, many car manufacturers retooled for the War-effort all knowing that American manufacturing would win the war and ultimately kick Hitler's Nazi ass.
Car dealers took a hard hit in the WWII years. Civilians couldn't buy new care, the dealers who survived bought and sold used cars, and of course did repairs. Used cars actually got a pretty good price then and right after the war, until they caught up with the new '46 line.
Because of the shortage of metal during the war, cars were sold with wooden bumpers. While Ford built Jeeps and other war equipment, Chrysler produced Sherman and Pershing tanks, half-tracks, and trucks by the thousands.

Chevrolet converted its manufacturing capabilities to meet the needs of the war. Civilian production of automobiles ended on January 30, 1942. Instead of cars, over 8 million shells were produced in Chevrolet factories.
In addition to over 500,000 trucks and cars for use by our militarises, Chevrolet produced a variety of war products from 1942-1945, including Pratt & Whitney aircraft engines totallying 60,000, wing and fuselage components to by used by Grumman Aircraft Company.
Perhaps the most remarkable numbers are in ammunition related products: 2,000 90mm guns, 200 million pounds of aluminum forgings, 5.7 million pounds of magnesium castings, and two billion pounds of grey iron castings. Other items included: armored cars, 75mm shells, and aluminum castings.
Chevrolet placed ads in several magazines like the one shown below to promote it's efforts in the war.
1942
-- Along with Chevy's wartime production, many civil production Chevy Fleetmasters were commissioned by the Army (retaining the all the chrome) while at the same time orders were placed with Chevrolet for the military version as described in TM10-1133.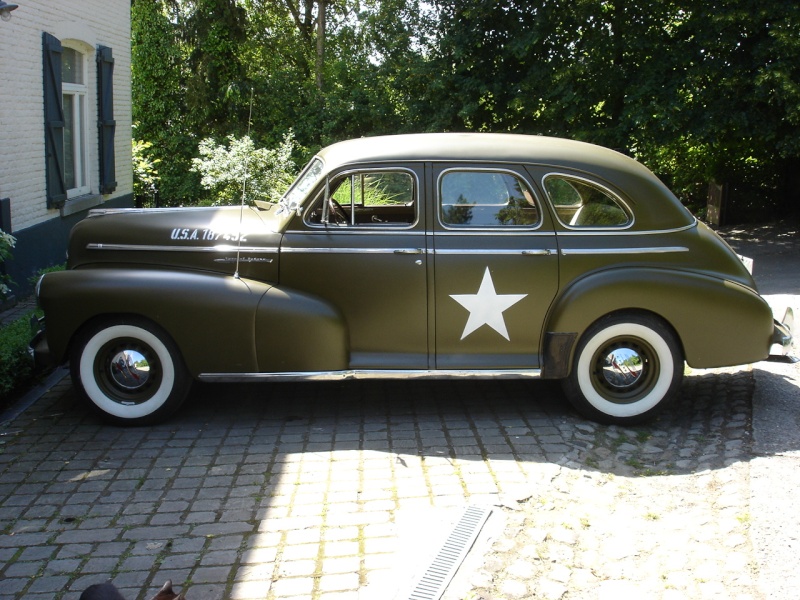 1945
-- Originally known as Swallow Sidecars (aka SS), Jaguar, which was an SS model first in 1935, ultimately became the whole company by 1945
1946
-- The first power windows were introduced.
1947
-- The first production cars to use power operated seats was when they were first used on the 1947 Packard line.
1948
-- Harley Earl introduces the tail fin on the Cadillac. Fins don't go away for over a decade.
1949
-- The Oldsmobile Rocket was the first mass-produced OHV V8
1949
-- The first to use a standardized production key-start system was in the 1949 Chryslers.
1951 -- Chrysler makes their first (automotive) engine with hemispherical combustion chambers.
Chrysler's first OHV V8, made in 1951, was a hemi. It was 331 cu in, and produced 180 HP.
1951
-- The compact 100-inch (2,540 mm) wheelbase Nash Rambler line included a two-door station wagon design whose production continued through 1955.
The 1955–1957 Chevrolet Nomad and sibling Pontiac Safari were two-door station wagons. Mercury produced a two-door hardtop (no "B-pillar") station wagon from 1957 to 1960, named the Commuter. Chevrolet produced the 1964–1965 Chevelle 300 series two-door station wagon.
1953
-- Chevrolet introduces its Harley Earl-designed Corvette.
The first Chevrolet Corvette rolled off the production line on June 30, 1953, at the GM plant in Flint, Michigan. Only 300 Corvettes were built that year -- each of them by hand -- making this the rarest Corvette. Each fiberglass-bodied two-seater was white with a red interior and a black canvas top.
The 1953 Corvette featured a Powerglide automatic transmission and a "Blue Flame" six cylinder 235ci 150 hp engine with three carburetors and dual exhaust.
1953
-- General Motors issued three specialty convertibles: the Buick Skylark, the Oldsmobile Fiesta, and the Cadillac Eldorado. Of the three, the Buick Skylark was the most successful with a production run of 1,642 units
1954
-- American Motors Corporation (AMC) was an American automobile company formed with merger of Nash-Kelvinator Corporation and Hudson Motor Car Company. At the time, it was the largest corporate merger in U.S. history
1954
-- Padded dashboards introduced for safety.
1955
-- The Chrysler 300, introduced in 1955, was the most powerful production car in the US.
1955
-- The first Chevy small block V8 entered production in 1955, and had a displacement of 265 cubes.
1955
-- Pontiac's 287 cubic inch "Strato Streak" V8 was introduced.

1956 -- Electric door locks introduced on several luxury models.
1957
-- The Ford Ranchero was produced first, then came the Chevrolet El Camino.
The first Rancheros were built in 1957 and the first El Caminos came two years later, in 1959.
1957
-- Pontiac's Tri-Power (3-2 bbl carbs) become available.
1957
-- The Peanuts characters were first animated in 1957 for a Ford Fairlaine automobile commercial.
1958
-- The first remote adjusted side view mirror.
1958
-- Ford introduces the first electric trunk release.
1958
-- Chrysler introduces the day-night rear view mirror.
1959
-- Pontiac start using the split grille and the arrowhead emblem.
1960
-- All-weather anti-freeze plus coolant introduced.
1960
-- The first car fitted with an alternator, rather than a direct current dynamo generator, was the 1960 Plymouth Valiant.
1962
-- The car with having the distinction of being the U.S. Production car with the quickest 0-60 mph time was the 1962 Chevrolet Impala SS 409. It did it in 4.0 seconds.
1963
-- Seat belts first offered as standard equipment.
1963
-- Chevy's first 427 was called the Z11 (a stroked 409), advertised at 430 HP & 435 ft-lb torque (some were as high as 650HP). With 13.5:1 compression and dual 4 barrels, yet only 50 were built and those were sold to a select few big names.
1964
-- Even though Chrysler make engines with hemi heads in the 50s, it wasn't until 1964 when they revived the hemi head design and officially used the "Hemi" name
1964
-- The Ford Mustang is generally considered the first "pony car", a new class of automobile first introduced in 1964 and designed to be more compact and more affordable than the larger muscle cars that inspired them.
First introduced at the New York World's Fair on April 17, 1964, the Mustang captured the imagination of the American public and guaranteed the success of the pony car. In fact, the Mustang was perhaps the most successful product launch in automotive history.
Racking up over 22,000 sales in its first day and one million sales in its first two years, the Mustang inspired a wave of imitators including the Pontiac Firebird, Mercury Cougar and Chevrolet Camaro, but none could match the success enjoyed by the Mustang.
Originally named for the P-51 Mustang, a World War II fighter plane, Ford's new car quickly became associated with the horse of the same name and this became the basis for the now-famous Mustang emblem.
Ford's answer to the Chevy Corvette, and other legal street racers of the 1960′s, was Carroll Shelby's Mustang GT350.
1965
-- The Chevrolet Impala sold more than one million units in North America, setting a record that still stands today.
Originally introduced in 1958, the Impala was the best-selling automobile in the United States during the 1960s. Early Impala models sported six taillights, a unique feature which, for a time, became the Impala trademark. The Impala was named after an African antelope.
1965
-- Rear seat belts became standard on most cars.
1966
-- The last year for Pontiac tri-power engine.
1966
-- The car with the honor and the distinction of being GM's 100 millionth car built in the U.S. was a Olds Tornado which rolled out of Lansing, Michigan, on March 16, 1966
1966
-- The first car to include anti-lock brakes was the 1966 Jensen FF which came equipped with the Dunlop Maxaret anti-lock braking system (originally developed for use on aircraft).
Although sometimes unreliable, the Jensen FF's anti-skid system was a huge technological breakthrough at the time.
Three years later, in 1969, the Lincoln Continental Mark III improved on the idea, placing sensors on the rear wheels that modulated pressure on the rear brakes when they began to lock up.
1967
-- All US cars are mandated by the Federal Government to come equipped with dual master cylinder brake systems.
1968
-- The only year the "California Special" edition of the Ford Mustang was available.
1969
-- The first model car to have it's radio antenna embedded in the windshield was the 1969 Pontiac Grand Prix.
1969
-- Cadillac introduce the first electric sunroof
1970 -- The 1970 Gremlin, (AMC), was reportedly designed on the back of a Northwest Airlines air sickness bag and released on April Fool's Day, 1970
1970 -- Ford's Bunkie Knudsen ordered the design of a larger Mustang for 1971 in order to fit Ford's beefy 429 ci Cobra Jet V8 under the hood.
By the time the '71 was introduced in September of 1970, the muscle car market had collapsed due to increasing insurance rates and increasing emission regulations. Very few '71s were ordered with the 429 engine.
1972 -- Cars traveled along LA freeways at an average speed of 60 mph. In 1982 the average was only 17 mph!
1974
-- National 55 mph speed limit enacted after oil shortages.
1974
-- The average American family spent 33 percent of their yearly income for a new car. In 1995 the average was 50 percent.
1975
-- The television series
Starsky and Hutch
debuted and would run until 1979, featuring two streetwise cops and their red and white 1975 Ford Gran Torino.
1980
-- The world's longest traffic jam was between Paris and Lyon on the French Autoroute. It was about 110 miles long.
1982
-- November of that year, the first Japanese car manufactured in the United States was the Honda Accord.
1984
-- Chrysler introduces the Dodge Caravan and Plymouth Voyager mini-vans.
1987
-- The most expensive car ever sold was the 1931 Bugatti Type 41 Royale "Kellner" Sports Coupe which sold for $9,760,000 at a Christie's auction in London in November 1987.
1995
-- The Big Three sold a whopping 97,000 cars in Japan.
1996
-- New Jeep Wrangler got coil springs.
1997
-- Thrust SSC broke the sound barrier and raised the World Land Speed Record to
1221kph (763mph, Mach 1.02).
1998
-- The fastest internal-combustion American production car was the 1998 Dodge Viper GETS-R, tested by Motor Trend magazine at 192.6 mph.
1998
--Bentley bought by VW.
1998
-- BMW bought the Rolls Royce name.
1998
-- Bugatti name bought by VW.
1998
-- Chrysler and Mercedes-Benz merged to form Daimler-Chrysler.
1998
-- Volvo cars sold to Ford.
1999
-- Ford bought LandRover, and Phoenix took over MGRoverfrom BMW.
1999
-- The two-door Honda Insight became the first commercially available hybrid gasoline-electric car in the United States.
The Insight won numerous awards including International Engine of the Year, and earned EPA mileage ratings of 61 mpg in the city and 70 mpg on the highway, making it the world's most fuel-efficient car. The Honda Insight originally sold for just under $20,000.
1999
-- The average 1999 model year automobile cost $5,674 per year to own and operate.
1999
-- Scrap rate levels out. In the 1970's cars were scrapped almost twice as often as small trucks, but over the years cars have become more durable and in 1999 the scrappage rate was almost equal.
2001
-- Women spend more than $65 million on new cars and trucks, influence 80 percent of all new car purchases, and will buy 60 percent of new cars in 2001.
2002
-- 30% of the cars sold were SUVs.
2007
-- UK car accessories producers launched a "spray-on mud" product for SUV owners who rarely leave the city. Each bottle of spray consists of filthy water and can be applied to the car to create the illusion that you just drove from the countryside.
2010
-- The largest number of people ever to fit into a Smart Car is 19: they were Pakistani female students.
2010
-- The longest-lasting traffic jam happened in Beijing, China that year. Drivers were trapped in 62-mile line for over 12 days!
• The first Ford cars had Dodge engines.

• One American luxury automaker began by making cages for birds and squirrels -- It was the George N. Pierce Co. Of Buffalo, who made the Pierce Arrow, also made iceboxes.

• The Olds designation 4-4-2 stood for 4 barrel carburetor, 4 speed transmission, and dual exhaust.

• The official name for Buick Port Holes was Cruise Air Venta Ports.

• The "Boss", as in the Boss 302 and Boss 429 Mustangs, Bunkie Knudsen. Larry Shinoda chose the name "Boss" as a homage to his boss, Bunkie Knudsen, the former head of Pontiac.
• The infamous criminal John Dillinger's favourite cars to steal were Fords.
• Buick Nailhead says "Wildcat 445". The 445 refers to torque in ft-lbs.
• Most American car horns beep in the key of F.
• The "Spirit of Ecstasy" is the official name of the mascot of Rolls Royce, she is the lady on top of their radiators.
• The automobile is the most recycled consumer product in the world today.
• In Tokyo, a bicycle is faster than a car for most trips of less than 50 minutes!
• The 1st automobile racetrack in the US was the Indianapolis Motor Speedway which consists of 3 million cobblestones.
• In its 1st year the VW Beetle sold only 330 cars in the United States.
• 135 million cars travel the American roads and interstates each day.
• One seventh of the new auto/truck sales in the US are in Southern California.
• The city with the most Rolls Royce's per capita is Hong Kong.
• Windshield wipers were invented by a woman.
• The brake light in the rear windows was put there after a suggestion by Elizabeth Dole, Senator Bob Dole's wife.
• The first product Motorola started to develop was a record player for automobiles. At the time, the most known player on the market was the Victrola, so they called themselves Motorola.
• The most crowded roads in Europe can be found in the country of Luxembourg with 570 cars per 1000 people.
• Ferrari only builds 14 cars each day.
• An airbag takes only 40 milliseconds to inflate after an accident.
• Worldwide, the most produced car is the Toyota Corolla compact.
• Red cars are prohibited in Shanghai, China.
• 53% of car owners wash their cars once a month; 16% never do it.
• The average American spends approximately 2 weeks of his/her life waiting at red lights.
• The United States has the greatest amount of cars per capita.
• Cha Sa-soon, a 68-year-old South Korean woman, took the written drivers test 950 times before she passed. She spent 4 years trying and $4,200 on application fees.
• The leftside ignition key in Porsches isn't a design feature intended for left-handed drivers, it's due to tradition: in the early days of the famous Le Mans race, drivers would run to their cars, jump in, turn the key with their left hand, push the clutch in with their foot, and put the car in gear all at the same time, thus resulting in a faster start
• The Chevy 409 is the bigger version of the 348 cu in engine
So where did the term "Pickup" come from?
Ford, who made the first pick-up trucks, shipped them to dealers in crates that the new owners had to assemble using the crates as the beds of the trucks. The new owners had to go to the dealers to get them, thus they had to "pick-up" the trucks.
According to sales figures, 70% of all pickup trucks today are not used for industrial, commercial, or agricultural use.
Texas is sometimes called the "land of pickup trucks", even charging lower taxes on pickup truck registration (agricultural use only) than on other types of vehicle registration.
Indeed, Texans have 14% of the pickups in the U.S., and automakers sometimes offer special editions of their pickup trucks, with names like "TEXAS EDITION" and "LONE STAR EDITION."
In 2002, Dodge was the first brand to unveil a Texas Edition pickup, though they were called "Lone Star Edition"; other brands followed suit, more commonly known as the "Big Horn" in other states.
President George W. Bush's Pickup
President George W. Bush was seen cruising around his Crawford, Texas ranch in a white Ford F-250 while vacationing, sometimes with foreign heads of state riding shotgun, such as Russian President Vladimir Putin.
On December 14th, 2012, President Bush donated his pickup truck for charity auction. His Ford F-150 King Ranch 4x4 SuperCrew pickup was auctioned on January 19, 2013 for $300,000. The pickup was auctioned to the highest bidder for $300,000 to benefit the Fisher House Foundation, which provides no-charge temporary housing for the families of military members being treated for injuries.
The former President's intense involvement with America's wounded warriors make this no surprise. Fisher House also has scholarship programs available to children and spouses of fallen or disabled veterans.
In 2011, Barrett-Jackson sold a New Holland tractor owned by Jay Leno and signed by George W. Bush for $535,000, with proceeds also going to the Fisher House Foundation. My admiration for President George W. Bush is only that much higher since my finding out how much work he does to make a difference for America's military veterans.
The trucking companies, warehouses and private sector in the U.S. employs an estimated 8.9 million people employed in trucking-related jobs; nearly 3.5 million were truck drivers. Of this figure UPS employs 60,000 workers and 9% are owner operators. LTL shippers account for around 13.6 percent of America's trucking sector.
There are about 5.6 million semi-trailers registered in the U.S., about 3 times the number of registered semi-trucks.
Semi-trailers are usually about 53 feet long.
There are 3.2 million truck drivers in the U.S., who operate a total of 1.9 million semi trucks, a third of which are registered in California, Florida and Texas.
90 percent of trucking companies and owner-operators have fewer than six trucks.
The maximum weight permitted for a truck with a full trailer is 80,000 pounds.
The engine itself can weigh around 3,000 pounds.
About 190,000 new semi-trucks are sold every year, one third of which are manufactured by Freightliner, the most popular semi-truck manufacturer.

Semi-trucks collectively log 140 billion miles every year in the U.S., and individually average about 45,000 miles, though long distance trucks can reach up to 100,000 miles a year.
While only 15 percent of commercial trucks are semi-trucks, semi-trucks travel 42 of the miles logged by commercial trucks every year.
Fuel is one of the biggest expenses for trucks, as they get an average of only 6.5 miles to the gallon.
This can drop to less than 3 miles to the gallon if a truck is going up a steep hill, or it can increase to more than 23 miles per gallon going down a hill.
New fuel economy standards will require semi-trucks with sleeper cabs to get 7.2 miles per gallon or more.
Hawaii's Claim To Highway Fame
On the island of Oahu, Highway designated H-3 is the most expensive Interstate Highway ever built, on a cost per mile basis. Its final cost was $1.3 billion, or approximately $80 million per mile.
On October 19th, 1960, the United States issued a trade embargo against Cuba. One of the embargo's many effects was that new cars stopped rolling into the island nation.
The Cuban government also cracked down on the purchase of cars; only those that were already on the island at the time of the embargo could be freely traded and sold amongst its citizens. All others who wished to buy a car had to secure special permission.
Beginning in early 2014, the Cuban government lifted the sanctions, allowing people to freely buy cars if they wished. While the United States continues to ban automobile exports to Cuba, manufacturers in other countries, such as France's Peugeot, have no such restrictions.
Unfortunately, the Cuban government has instituted staggering markups on the prices of these vehicles, to the point where a new car ranges from US $91,000 to $262,000. Since the average Cuban in Communist Cuba earns only about $240 a year, putting such expenditure so far out of reach has to be unimaginable.
While there are some beautifully maintained 1957 Chevys rolling down the streets of Havana, the truth is that keeping almost 60-year-old cars in running order is a full time job. Most of Cuba's vintage cars are dangerous, oil-belching monstrosities held together with duct tape and prayers -- which is illegal under a Communist government as Cuba.
The Muslim Attack on 9/11 had far-reaching social, political, and financial implications that are still being felt today. The four horrifying plane crashes stops air travel for weeks, then Americans were leery of it after it resumed.
Those who did fly experiences the presence of National Guardsmen clutching automatic weapons at airports. So instead, many more people chose to drive. At the time, the average price per gallon of gasoline in the United States was $1.50.
While supposedly flying is the safest way to travel. When a plane crashes, the loss of life is catastrophic. While that my be true, millions of flights go off without a hitch every day around the world. MIT once reported that the risk of dying on a flight in the United States was one in 45 million.
In other words, statistically speaking, you can fly every day for 123,000 years -- if you lived that long -- before encountering a crash.

In contrast, driving is far more deadly. Your chance of being killed in a car accident in a given year is 1 in 7,000. That makes flying more than 6,000 times safer.
It has been estimated that the increase in driving in the year following 9/11 resulted in an extra 1,595 traffic fatalities, more than half the death toll of the original 9/11 Muslim attack.
Karl Benz -- He is believed by many to be the inventor of the automobile.
David Buick -- A plumbing inventor and manufacturer built his first car in 1900. He was in fact a Scotsman, who merged the failing Buick Manufacturing Company with another to form the Buick Motor Car Company in 1903.
Antoine Cadillac -- Founded the City of Detroit in the 17th century.
Louis Chevrolet -- Swiss race car driver and engineer built his first car in 1911 with financing by William Durant.
Walter Chrysler -- A locomotive mechanic who got into the automobile business in 1912 and publicly displayed his own at the 1924 NY Auto Show and selling an amazing 32,000 car in his first year. He formed the Chrysler Corporation in 1925.
Gottlieb Daimler -- He can be considered as the founder of the automobile industry when he formed Daimler Motor Company in 1890.


John & Horace Dodge -- Founded their own car company in 1914. Their first car came off the assembly line in 1914. Its first logo incorporated the Star of David. Both brothers died within less than a year of each other during the influenza epidemic in 1920.
William Durant -- A businessman, finance man, and salesman who was a self-made millionaire before ever joining the auto business. He was called on by the owners of the failing Buick Motor Company to help. He soon bought Oldsmobile, Pontiac and Cadillac and formed General Motors. He almost bought Ford, but didn't come up with enough cash to suit Henry. Durant always kept himself stretched thin with his money in stocks and other businesses. He lost everything in the Depression.
Charles & Frank Duryea -- Built the first successful American automobile and the first to offer a production model for sale to the public.
Harley Earl -- Designed the La Salle in 1927, the beginning of a trend towards lower and wider cars. As head of GM's styling department he invented the tail fin and designed the Corvette.
Enzo Ferrari -- A mechanic, race car driver then race car team owner. His cars dominated racing for many years after WWII.
Harvey Firestone -- His tires went on the first mass-produced Fords.
Henry Ford -- In creating the assembly line for automobiles he also created jobs for thousands and affordable cars for millions. His greatest invention was not the automobile, but the concept of the "assembly line" which had a positive influence on manufacturing around the world.
Tom Gale -- Chrysler designer largely responsible for the current crop of Chrysler's design of cab-forward and curved styling on everything from the minivan to the Viper.
B.F. Goodrich -- The company started in 1896 has many firsts: First synthetic rubber tire; First tubeless tire; First American-made radial tire; First space saver spare; First "run flat" tire.
Charles Goodyear -- Accidentally discovered the rubber vulcanizing process. He patented the process, but couldn't come up with any practical uses for it and died penniless in 1860. The Goodyear Tire and Rubber Company was named after him.
Soichiro Honda -- After WWII with $3,300 he started making motorcycles.
Emile Jellinek -- In 1900, while a Daimler Motor Works board member, Jellinek convinced Gottlieb Daimler to build a race car and name it after Emile's daughter, Mercedes.
Mercedes Jellinek -- She was a daughter of a German diplomat and investor Gottlieb Daimler.
Edward Murphy -- Founded the Pontiac Buggy Company in Pontiac, Michigan, in 1893. At the turn of the century he decided to switch to making "those noisy, smelly, unreliable automobiles."
Ransom Olds -- He founded the Olds Motor Vehicle company in 1897. His highly successful "Curved Dash" runabout put Michigan on the map as a source of motor vehicles. He later left his namesake company to produce the first gasoline lawn mower.
Ferdinand Porsche -- A design engineer who never created a car carrying his name. That was left to his son, Ferry, to accomplish.
Frederick Royce & Charles Rolls -- Engineer Royce and car dealer Rolls introduced their first car in 1904.
Alfred Sloan -- Led GM to become the world's largest corporation. Responsible for the idea of yearly styling changes.
Preston Tucker -- After WWII Tucker designed, built and promoted an innovative car with features, power, and aerodynamic design never before seen and at a very good price. His company folded after building 51 cars.
What was the inspiration for MG's famed octagon-shaped badge?
The shape is that of founder Cecil Kimber's dining table. And yes, the MG stands for Morris Garages.
What would I like to see come back? For me, it's Wing Windows and Bench Seats!
In these days of almost $4 dollar a gallon for gasoline, many of us are doing things to try to save gas. If we were able to have Wing Windows again, then we would be able to turn off our air conditioners and save all sorts of gas during the summer months.
As for Bench Seats, I miss the days when a passenger could just move over behind the wheel instead of having to get out and walk all the way around the car to take over driving. And yes, it would be nice if cars had frames and fenders, didn't look all alike, and lasted for more than just a couple of years before costing owners an arm and a leg to fix them.
But such is life, and in a world where mechanics are no longer mechanics and instead are now technicians, we are no longer able to do the simplest task like a tune up or changing spark plugs without a computer and diagnostic readouts.
And as for you my readers, well you now known most of the trivia that you may ever want to know about automobiles. And yes, if you're wondering, this has been compiled from all sorts of sources.
As for getting a lot more technical automotive information, please go to my friends at
How Cars Work
. They have an extensive digital library of learning resources for future mechanics. Their resource material is dealing with the mechanics of the Combustion Engine, Drive Trains, Fuel Systems, Cooling Systems, Running Gear, Brakes, Electrical Systems, and even Body Parts.
If you're thinking that I'm recommending them because they are a sponsor of mine, well they are not a sponsor. But fact is, ever since I've found out about their site, I've found them to be a great source of valuable information when dealing with my cars and trucks.
I hope you've enjoyed the trivia and the information.