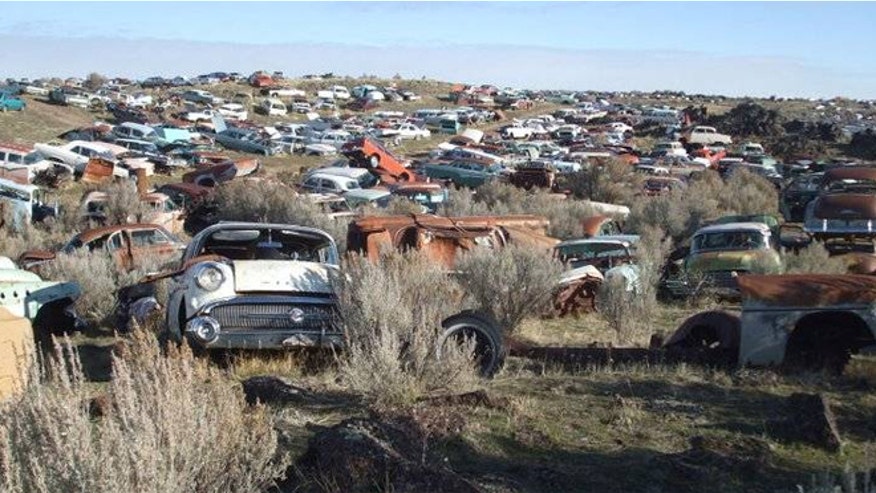 Two Months In 2014 that Classic Car Collectors Won't Forget
First, on February 28th, 2014, FoxNews.com reported about L&L Classic Auto and their over 8,000 classic cars for sale.
The Wendell, Idaho, salvage yard is selling its stock of thousands of cars, as its 79-year-old owner considers finally retiring after over a half-century in the business.
And he's throwing in the 80 acres of land they're sitting on for free.
Or, maybe it's the other way around.
"I will miss this place, but I won't miss the stress of running it," Larry Harms tells FoxNews.com.
Harms' daily driver is a chunky, cerise 1937 Ford Coupe with thick whitewall tires, but he keeps a small collection of domestic gems for himself.
L&L, owned and operated by Harms and a staff fiercely loyal to vintage cars, began life as a body shop in a much smaller location close to town.
As the accumulated assortment of classic metal began to grow, the outfit moved to a more accommodating location that is large enough today to strike an impressive pose on Google Earth's satellite view.
The land is populated with vehicles of all sizes and shapes, from derelict, parts-car specials to classics in running condition, some nearly a century old.
Conservative estimates put the total number between 8,000 and 10,000 vehicles, but the shop's staff admits that it has been unable to catalog all of them.
Nevertheless, it maintains a thorough running tally of available parts for sale on its website.
As much as Harms is looking intently toward retirement, he's not in a hurry to unload his trove.
Instead, he is firmly determined to find a buyer who is interested in preserving L&L's cadre of historic vehicles, rather than someone who would prefer to destroy the cars and keep the land.
"I won't [piecemeal] sell it," Harms said. "I don't want it crushed. I could do that myself."
That's right, unless you are planning to take – and take care of – the whole kit and caboodle, you'd better sit this one out.
The sum for the whole lot, including the land and the myriad cars scattered upon it, is listed at $3 million.
That's anywhere between $300 and $375 per car, if you ever get around to counting them one by one.
"Is [that] a fair price? No, it's low," says one L&L employee. "It's a great deal."
L&L currently lists prices for some of the cars individually, including a gobsmacking 1974 AMC Matador "Oleg Cassini Edition" at $8,500, and what appears to be a pristine 1961 Pontiac Bonneville two-door for $29,000.
Most others are well picked-over and clearly past their prime.
Harms' staff says it has already had several serious inquiries into the property, in addition to frequent calls from interested parties from as far away as South America, England, Norway, Australia and New Zealand.
Despite the apparent demand, Harms remains adamant that the cars end up in the hands of a serious buyer who understands their mettle.
"This is stuff you can't get new," he said. "Once it's gone, it's gone."
Incredible Car Collection Uncovered After 61 Years
Next, on May 14, 2014, it was reported on FoxNews.com that a collection of more than 200 historic cars hidden from public view for 61 years will be crossing the auction block in Oklahoma next month.
The cars belonged to Oliver Jordan, who ran a salvage business in the city of Enid from 1945 to 1953, when he locked it up during a zoning dispute that lasted for years.
Jordan never relented, and the cars have sat idle since then, most of them left outside to rot. The majority are from the 1930s, and '40s, but the oldest is a rare 1917 Maxwell.
Among the more notable finds are an aluminum-bodied 1937 seven-passenger Lincoln limo by Willoughby, believed to be one of five remaining of the 60 that were produced, and a 1937 Cord Model 812 Supercharged Beverly sedan.
Two 1942 "blackout specials" – a Ford and a Chevy – built during World War II, when the government put restrictions on the use of ornamental shiny metal parts, are fitting of the cache's low profile.
A 1937 TerraPlane Super Six may sound like a flying car, but was from a short-lived brand produced by Hudson. It doesn't come with a hood, and you'll be hard-pressed to find an inch of it that's not corroded.
The same can be said about pretty much all of the other vehicles.
Nevertheless, VanDerBrink Auctions is billing the event as a customizer's dream, as many of the parts from the once-common cars are becoming rarer by the day.
Jordan sold a few of them himself over the years, but not many.
According to auctioneer Yvette VanDerBrink, if he invited you inside to see his secret stash, and you were interested in one of the cars, he'd make you a take-it-or-leave-it offer on the spot. No haggling or second chances allowed.
Jordan died in 2003, and his widow died seven months ago. His grandson, who helped consolidate the cars from four different yards in recent years, is overseeing the sale of the estate, including the 1929 Ford Model A wrecker that was Jordan's first tow truck.
The auction is scheduled to take place on June 7, both on site and online.
All sales are final, of course. Jordan wouldn't want it any other way.
-- end of articles.
And yes, if I had the money a 1937 Chevy would be sitting in my garage quick enough!
Tom Correa