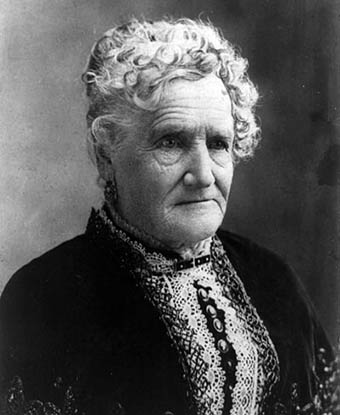 Esther Hobart Morris
I'm so frustrated with the way America's Heroes are being treated these days. Great men and women who sacrificed so much, worked so hard, pushed, toiled, failed, came short again and again, didn't stop, didn't give up, kept going, and in fact, did great things. And how do we repay them for their efforts? We name a bridge or a highway after them. We name a building in their honor. We place a plague on some wall in a government building explaining why that person should be remembered. In some cases, we honor them by erecting a statue of their likeness.
According to the Encyclopaedia Britannica,
Esther Hobart Morris'
full name was Esther Hobart McQuigg Slack Morris, née Esther Hobart McQuigg. We know her as Esther Hobart Morris, the First Woman to be a Justice of the Peace in United States history.
According to her biography, she was born Esther McQuigg near Spencer, New York, in Tioga County, on August 8, 1814. By the time she was 11 years old, her parents died and she was orphaned. In reality, she and her nine siblings were all orphaned. All were "farmed out" to various relatives.
Esther went on to apprentice as a seamstress and eventually started her own millinery business. When she was 27 years old, she married Artemus Slack. That was in 1841 and she was widowed only three years later.
Living in Peru, Illinois with her infant son, she decided to settle the property held there by her late husband's estate. Unable by law at the time to own or inherit property, she ran into trouble settling the estate. In those days, even though they were married, women didn't usually have rights to their husband's property. In most cases after a husband died, their property when to his nearest male relative. Women weren't recognized as "people" and not "property" yet.
You probably think I'm exaggerating. Well, I'm not. Most people today have no idea how hard it has been for women in America. Even before America won its independence from England, women were treated less than second-class citizens. After the Revolutionary War, many of the customs that were in place didn't change.
The rights that American women enjoy today were not even imaginable in the 1800s. From suffrage and having the basic right to vote as citizens to wage equality and legal protections afforded women today, many American women today take for granted the rights that were fought for on many fronts. And yes, that includes the battle for women's property rights.
In 1787, Massachusetts was the first state to allow some married women to conduct business on their own. This was so wives of merchants or traders could continue running the family shop while their sea-faring husbands were at sea.
But for most of the nation, it wasn't until the 1840s that women were legally granted the right to own property. And really, that was only in a few states. In those days, their husbands or another male relative had complete control over any property that was left to a wife upon their husband's death. This limited the financial independence of women for generations.
With the passage of the Married Women's Property Act in 1848 and the Act Concerning the Rights and Liabilities of Husband and Wife in 1860 in the New York state legislature, things started changing for the better because every married woman in New York was seen as being entitled to her husband's property if her husband died without leaving a will. So, besides having the right to independently conduct business, women could hold sole ownership of any inherited property.
As for Esther, she was living independently, running her own successful millinery business when she met and married a local merchant, John Morris. Besides becoming active in seeking women's rights, she is said to have been already active in supporting the abolition of slavery.
By 1869, the whole Morris family had moved and settled in South Pass City in the Wyoming Territory. As originally just a stage and telegraph station on the Oregon Trail in the 1850s, South Pass City boomed when gold was found nearby in 1866.
Her husband opened a saloon and bought interests in several of the local mines in 1868. Esther and the children followed him there in 1869. It is said that they boarded "the newly-completed transcontinental railroad and then a stagecoach to reach South Pass City. The family lived in a 24-foot by 26-foot, sod-roofed log cabin."
It was while in Wyoming that Esther became involved in the fight to get women the right to vote, as an American suffragist she played a major role in gaining voting rights for women in Wyoming. And please, don't think that wasn't a big deal. It was a milestone for the national women's suffrage movement.

As with most boomtowns that go bust, the gold rush there may have been pretty good in 1868 and 1869 when the town boasted a population of over 2,000, but soon things started to change when the mines didn't produce what folks had hoped for.
Esther tirelessly fought for granting women the right to vote in Wyoming Territory. As we know, her fight did not go for naught since the Wyoming Territory's enfranchisement of women did come about in 1869, along with laws giving married women control of their own property, and providing equal pay for female teachers.
Esther Hobart Morris was the first woman ever to serve as Justice of the Peace in the entire history of the United States. She was appointed Justice of the Peace in South Pass City, Wyoming after the previous justice resigned in protest after Wyoming Territory passed a woman suffrage amendment in December 1869 when Wyoming Territory had granted women the right to vote.
District Court Judge John W. Kingman appointed her Justice of the Peace and the Sweetwater County Board of Commissioners in a vote of two to one approved her application on February 14, 1870. Her first act was to arrest her predecessor, who refused to hand over his court docket. Eventually, she dismissed her own case, ruling that she, as an interested party, could not arrest the former justice, and recused herself.
Esther Morris's appointment to Justice of the Peace was big news across the nation. It was so big that the county clerk sent a telegraph along the wires: "Wyoming, the youngest and one of the richest Territories in the United States, gave equal rights to women in action as well as words."
Her biography says it was "a job for which, despite the rough character of the gold-mining town, her robust frame and blunt fearlessness well suited her. She became the very first woman ever to hold such a position, and in her eight and a half months in the post, she tried more than 70 cases expeditiously and without reversal."
So why was she only a Justice of the Peace for eight and half months? Well, when boomtowns go bust, their population can drop like a rock. It happened all through the Old West. Take the town of Tombstone, Arizona, for example. After its boom in 1879, it is said to have had a population as large as 10,000 people. Then just a few years later by 1883, the population of Tombstone was less than 1000 people.
The same happened to South Pass City when the population there had fallen to under 500 people by 1870. And by 1875, there were less than 100 people left there. As for Esther and her husband, to add to the problems of his saloon business going under, a fire destroyed their business in 1871.
During this time, it's said her husband John's reputation in town as being a lazy drunk and brawler had taken a toll on her. In 1872, Esther left her husband and South Pass City and moved to Laramie, Wyoming.
In February of 1872, she attended the American Woman Suffrage Association convention in San Francisco, In 1873, she was actually placed on the ballot to run as a state representative. In 1876, she served as the vice president of the National American Woman Suffrage Association. In July of that year, she was in Philadelphia to address the national suffrage convention.
In her later years, she was honored for her role in helping to obtain the right to vote for women in Wyoming. For the entire nation, Wyoming was the first state to observe women's rights as equals to men at the ballot box. And though many back in the day tried to say that Esther Morris had a leadership role in the success of the woman's suffrage amendment in Wyoming Territory, to her credit she never claimed credit. Instead, she gave credit to William H. Bright who was President of the Territorial Council and represented South Pass City in the territorial legislature at the time.
Esther later moved to Albany, New York, and then to Springfield, Illinois. It is said that she spent winters in Springfield and summers in Wyoming with her sons. It was in the 1880s that she returned to Wyoming moving to Cheyenne to live with her son Robert. She died at the age of 82 in Cheyenne on April 3, 1902.

She was laid to rest in the family plot in Lakeview Cemetery. For such a woman who had such a big impact on women's rights, I was sort of surprised to see that such a small headstone marks her grave.


Esther Hobart Morris
statue by artist Avard Fairbanks
in the National Statuary Hall in the US Capitol in Washington, DC
In 1960, a statue of her by artist Avard Fairbanks was in fact placed in the National Statuary Hall in the US Capitol in Washington, DC. A replica of the statue was placed outside the Wyoming State Capitol in Cheyenne in 1963.
The statue was moved to the basement during the $300 million Wyoming Capitol renovation project that began about five years ago. And now, even though the renovation work was completed in 2019, for some reason no one in Wyoming wants to move her statue back outside where it was for 60 years.
So yesterday, May 5, 2023, I read that the State of Wyoming has decided to keep her statue in their Capitol's basement until someone can figure out where to put it so that it doesn't offend someone.
Yes, this is what I'm talking about when I say that I'm frustrated with the way America's Heroes are being treated these days. I can't believe that such a thing is happening in Cheyenne, Wyoming. I can understand it if it were New York City, San Francisco, Los Angeles, Chicago, Austin, or even Atlanta where statues are vandalized and removed. And frankly, the deeds and efforts of others mean nothing to those living in those cities today. And sadly, the reasons for erecting such memorials as statues have a tendency to elude over time. Sadly, it's mostly out of ignorance and apathy of the people living today.
But I thought the folks in Cheyenne, Wyoming were different. I really thought they understood why her statue deserves a place of prominence and respect and not merely left in a basement. At the least, I would think they would fight to return her statue to her rightful spot outside. It seems to be a place of honor for all to see, as it has been since 1963.