Dear Friends,

Along U.S. Highway 50 just West of Fallon, Nevada, a historical marker designates the site of the old town of Ragtown. It was later to be called Leeteville.
Back in the Old West, the town was of huge importance to early-day travelers to California. Fact is, it was the last leg of America's Westward push over the Sierra Nevada. Because of that, it's said that Ragtown was never a town but more welcome oasis.
In reality, Ragtown was little more than a seasonal tent city. It was born each spring and was torn down each fall by enterprising men and women hoping to cash in and make a profit from the transcontinental wagon-train trade of the Westward movement. It's said that every Westward California-bound emigrant, weary from their crossing of the dreaded Forty-Mile Desert, found their first water, grass, shade, and rest along the banks of the Carson River right there in Ragtown.
The name "Ragtown" came about because travelers saw laundry hanging on nearby bushes to dry. It's true, local lore says the town site was named for the ragged clothing of those pioneers. Washed in the river nearby, they hung their ragged clothing to dry on every bush and tree they could find.

Originially called "Ragtown, later the name was changed to "Leeteville". And yes, before making the hard climb over the Sierra, travelers coming from the East would stop to rest and re-provision themselves there. In 1855, travelers Jules Remey and Julius Brenchley reported the station consisted of "three huts, formed of poles covered with rotten canvas full of holes."
That soon changed when Asa Kenyon, a pioneer and Churchill County settler, purchased the property the year before the Remey-Brenchley journal account. He farmed along the rich bottomlands of the Carson River and built the first permanent, wooden-framed structure that became his general store. Kenyon and his family owned and operated the station along the Overland Road for many years.
Ragtown remained an Overland Stage Station after the Simpson route was surveyed and adopted in 1860. Nevada newspaper reporter Dan DeQuille reported in his 1861 column Washoe Rambles, "We were now heading for the ancient and well-known city of Ragtown. The whole town is owned by Mr. Asa Kenyon."
The Ragtown post office was established on May 14, 1864, and was active until May 29, 1867. It flourished again between 1884 and 1887. Asa Kenyon served as postmaster. An Order of Sale of Real Estate filed in Churchill County in July 1891 transferred the property of Ragtown from Catherine Kenyon, widow of Asa, to James Leete. And yes, With the change of ownership the property came to be known as Leeteville.
Leete had come to Churchill County about 1882. The Leete family ranched the area along with operating the old stage station and trading post for many years. It was the only stopping place between the county seat, Stillwater, and the communities of Wadsworth or Virginia City, depending on the road westward.
Today the district is still known by the name of Leeteville. The interchange of Highway 50 to Fernley and Highway 50A to Silver Springs and Carson City carries the name Leeteville Junction.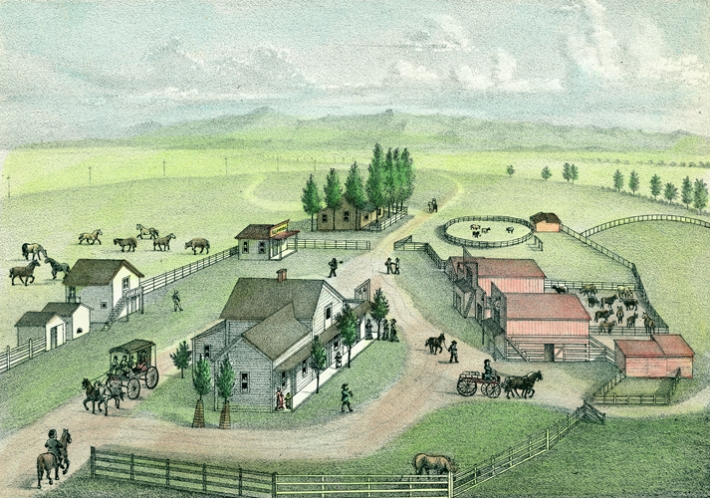 Early sketch of Asa Kenyon's Ragtown, most likely from the second half of the 19th century. During this period, Kenyon developed his property into a successful farming operation as well as a way station on the Overland Road.
Known Only To God
I have always had an interest in old graveyards and gravestones. I guess my interest started when I found a grave and an old marker in the middle of nowhere on a large piece of land that a friend's family owned. It was thousands of acres and they didn't even know it was there until the day that I stumbled on it while ferreting out a few head of cattle from a small grove of trees during a gathering.
That was many many years ago, and I have since been amazed at how many graves there are here and there un-noticed, tucked out of the way, most with stones or boards unread for generations. Other than a deer or some other critter, all only visited by the wind, the rain, the sun and the stars at night.
There is a small Pioneer Cemetery across from the train depot in downtown Fremont, California. I'm amazed at how many people living in that town don't even know it's there. And yes, among the few dozen folks buried there, there is a gravestone there that I found both touching and poetic, a loving tribute. The weathered stone reads:


Annie Hibbard
1866
19 years, 11 months, and 15 days
This Whisper Of Her Own Sweet Self
Of Her So Wildly Dear
Who Was For Earth And Earthly Scenes
To Pure To Linger Here
She Left Us As An Angel Leaves
She Gone Where Angels Go
And Tho We Feel Our Loss Her Gain
Still Bitter Tears Will Flow.
It's said that at one time there was a cemetery at Ragtown right there in the windswept plains of Nevada. The graveyard supposedly held over 200 graves. Imagine that.
Hazards along the trail took many lives of our early pioneers. Besides raiding parties made up of both Whites and Indians, the most prominent ailments that lead to their death were cholera, fever, and exhaustion. Remember, many walked the trail West. Supposedly, graves along the trail were marked by pieces of furniture that was being hauled with the families. But also logging chains, wagon wheels, wooden crosses, boards, piles of rocks, or whatever else was at hand were used.
During the winter of 1861 to 1862, floods obliterated everything in the Ragtown area including that old graveyard. All of the names of the folks buried there was lost. And yes, it makes me wonder sometimes if we will ever find them again.
Though it's a shame that we will probably never find their graves, or know who they were, I've heard it once said that what's lost to man is known only to God. And yes, that's really all that counts.
Tom Correa