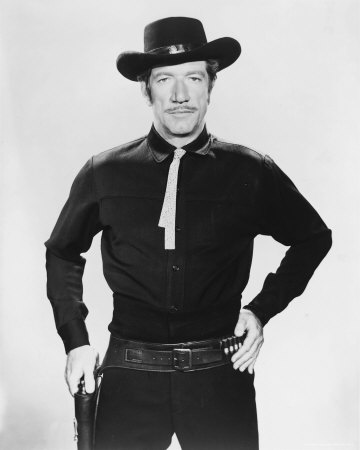 He was born Richard Allen Boone on June 18th, 1917, in Los Angeles, California. He passed away from throat cancer on January 10th, 1981, at the age of 63 in St. Augustine, Florida.
He was married three times, his first being Jane H. Hopper from 1937 to 1940, his second to Mimi Kelly from 1949 to 1950, both ended in divorce.
His last marriage was to Claire McAloon for 30 years, from 1951 to 1981, at the time of his death. They had one child together, their son is Peter Boone.
Richard Boone was an actor who starred in over 50 films, but will forever be linked to his most famous character of
Paladin
in the Golden Age of TV Westerns the series "
Have Gun – Will Travel
."
Richard Boone was the middle child of Cecile (née Beckerman) and Kirk E. Boone, a well-to-do corporate lawyer. His father was a descendant of Squire Boone, who was the younger brother of frontiersman Daniel Boone. His mother was Jewish, the daughter of immigrants from Russia.
"I was born with a lot of horsepower. There was a lot cooking inside me, a lot of energy, and Dad was a strong man by will and by intelligence, and the combination of us was almost bound to result in periodic explosions. He and I disagreed politically, very violently, and things would get hectic around the house." - Richard Boone, 1961
Although rumored throughout the entertainment industry, Richard Boone was not related to singer Pat Boone.
Richard graduated from Hoover High School in Glendale, California. Boone also attended the San Diego Army and Navy Academy in Carlsbad, California, near Oceanside in his youth. It was there that Boone was introduced to the theater under the tutelage of Virginia Atkinson, who spawned theater interest in many who eventually found their way to Hollywood. Robert Walker, another Academy graduate and member of the school's theater club, Masque & Wig, became a close acquaintance of Boone's.
He attended Stanford University in Palo Alto, California, where he was a Theta Xi Fraternity member. For reasons that I could fin, he left before graduation. It was the Great Depression of the 1930s, and he worked at several jobs. Folks back then took what there was, so in addition to working as an oil rig laborer, he tried house painting, bartending, writing, and even boxing. In fact, at 6 foot one inch tall, he was built rugged, and that was an advantage in the boxing ring.
He went into the service just before the bombing of Pearl Harbor on December 7th, 1941. He did, in fact, join the United States Navy in the summer of 1941. In the Navy, during World War II, he served on three ships in the Pacific and saw combat as an aviation ordnanceman and gunner on TBM Avenger torpedo bombers. Yes, Richard Boone was an aerial gunner in the Navy during World War II.
"Richard Boone was bombed while serving on the
USS Enterprise
, torpedoed on the
USS Intrepid,
and attacked by kamikaze planes on the
USS Hancock
. 'We began to think somebody was trying to kill us,' he says." - writer Richard Gehman, 1961
After World War II, he used the G.I. Bill to attend acting school at the prestigious Actor's Studio in New York. His classmates included such unknowns as Marlon Brando, Karl Malden, Eva Marie Saint, and Julie Harris.
Serious and methodical, Boone debuted on Broadway in 1947 in the play
Medea
and appeared in
Macbeth
(1948) and
The Man
(1950). Elia Kazan used Boone to feed lines to an actress for a screen test for Lewis Milestone. Mr. Milestone was not impressed with the actress, but he was impressed enough with Boone's voice to summon him to Hollywood, where he was given a seven-year contract with Fox.
In 1950, Boone made his screen debut when he was signed to a contract with 20th Century Fox and was cast as Lt. Col. Gilfillan in the Lewis Milestone film
Halls of Montezuma
. In 1953, he played Pontius Pilate in the first released Cinemascope film,
The Robe
. He had only one scene in the film, in which he gives instructions to Richard Burton, who plays the centurion ordered to crucify Christ. When he was ordered to appear in another film for Fox made simultaneously as
The Robe
, he ended his contract with the studio.
During the filming of
Halls of Montezuma,
he befriended Jack Webb, who was then producing and starring in
Dragnet
. The writer of
Dragnet
was preparing a series about a doctor for NBC. That's how Richard Boone became a familiar face in the lead role of that medical drama,
Medic
from 1954 to 1956, and received an Emmy nomination for Best Actor Starring in a Regular Series in 1955. While on
Medic
, he also guest-starred as the character Everett Brayer on NBC's television anthology series
Frontier
in the episode "
The Salt War
."
"I was a father figure. I used to get letters by the hundreds. Many of them asked me to diagnose some illnesses; those that didn't say I had an interesting face. Fortunately, Paladin came along soon, so I could trade my stethoscope for a six-gun," said Richard Boone in 1960.
In 1957, Richard Boone started his second television series. It was called
Have Gun Will Travel
. And yes, along with his famous holster adorned with a Chess Knight, his role as
Paladin
would make Richard Boone a national star.
The silver-knighted Paladin rig on
Have Gun Will Travel
opened Richard Boone's monologue every week. Pictured above to the right is a replica by Alfonso's of North Hollywood. The original was made by Ojala.
Paladin
was a different type of 50's Western Hero. He was sophisticated, well-read, quoted Shakespeare, and yet he was tough as nails. Some say he was a mercenary, yet his gun for hire in the late 19th century West was only used for right and against wrong.
The show was first offered to Randolph Scott, but he turned it down and gave the script to Richard Boone to read while they were making the Western film Ten Wanted Men. To say
Have Gun Will Travel
was a big hit would be an understatement.
"Paladin is a character people seem to like. He's an intriguing sort of guy with an air of mystery about him." - Richard Boone, 1958
"I give out lots of the calling cards Paladin uses in the stories, which are lettered 'Have Gun Will Travel' and say underneath, 'Wire Paladin, San Francisco.' At the last count, I had disposed of around 84,000 of them.
Naturally, lots of people do wire me. Once I received a telegram signed 'Georgia football fans' which read, 'DEAR PAL: PLEASE KILL COACH TUBBS IMMEDIATELY.'
At New Year's, when I rode my horse in the Tournament of Roses parade, one of the spectators yelled, 'Hey Paladin, I've got a job for you -- but I never found out what. Just then, the woman with him conked him with her handbag," said Richard Boone in 1959.
"A high school teacher wrote Boone, 'Yours is the only Western I recommend to my students. You speak English.'" wrote L. Edson in 1960.
"Few actors are so perfectly cast for their roles. Paladin of Have Gun Will Travel is a cultured, sophisticated, and sensitive man who is also a man of action. So is Boone,." said writer Richard Gehman in 1961.
Have Gun Will Travel
ran from 1957 to 1963, with him receiving two more Emmy nominations, in 1959 and 1960.
A magnificently ruined face!
"I guess Paladin is so attractive to women because he's so formidable, yet so gentle at the same time," said Richard Boone in 1962.
As for looking like a Hollywood "leading man"? Well, take a look at what the entertainment industry thought of his looks, and remember he was one of the top three television shows in the nation.
"Not a handsome man by Hollywood standards, Boone has a nose faintly reminiscent of the late W. C. Fields and pale blue eyes that cannot be described as deep or burning or penetrating. He has had to crash Hollywood on the strength of his craftsmanship and abundant energy," wrote TV Guide in 1958.
"Boone's face, of which a girl I once knew said, 'It's so ugly, it's beautiful,' could be that of a medieval seigneur about to exercise his Droit. A medieval seigneur, I might add, recently stung by hunting wasps, for the face is pocked and puffy, and, in Boone's words, more 'interesting' than handsome." this from writer Richard Gehman in 1961
"A magnificently ruined face!" said writer Richard Schickel in 1961.
"His frown, a magnificently savage front of arched eyebrow and tight lip can cower a badman at twenty paces," wrote L. Edson in 1960
All this praise, yet during the 1960s, Boone appeared regularly on other television programs. He was an occasional guest panelist and also a mystery guest on
What's My Line?
, the Sunday Night CBS-TV quiz show. He talked with host John Charles Daly about their days working together on the TV show
The Front Page
. Boone also had his own television anthology,
The Richard Boone Show
. Even though it aired only from 1963 to 1964, he received his fourth Emmy nomination in 1964.
Along with
The Danny Kaye Show
and
The Dick Van Dyke Show
,
The Richard Boone Show
won a Golden Globe for Best Show in 1964. After the cancellation of his weekly show, Boone and his family moved to Honolulu, Hawaii. While living on Oahu, it was actually Richard Boone who helped persuade Leonard Freeman to film
Hawaii Five-O
exclusively in Hawaii.
Before that, Freeman had planned to do "establishing" location shots in Hawaii but principal production in southern California. Boone and others convinced Freeman that the islands could offer all necessary support for a major TV series and provide an authenticity otherwise unobtainable.
Leonard Freeman was so impressed by Boone's love of Hawaii that he actually offered him the role of
Steve McGarrett
. Boone turned it down, and the role went to Jack Lord, who also shared Boone's enthusiasm for Hawaii -- something which Freeman considered vital to the series's success. Boone at that time had shot a pilot for CBS called
Kona Coast
, that he hoped CBS would adopt it as a series, but sorry to say they went with
Hawaii Five-0
instead.
By the way, Jack Lord had appeared with Boone in the first episode of
Have Gun Will Travel
, entitled "
Three Bells to Perdido
." They were friends for life.
Boone has appeared in a lot of movies. And yes, he has typically played the villain or a heavy. These include
The Raid
(1954),
Man Without a Star
(1955),
The Tall T
(1957),
The War Lord
(1965),
Hombre
(1967),
The Arrangement
(1969),
The Kremlin Letter
(1970),
Big Jake
(1971), and
The Shootist
(1976).
Paul Newman starred with Boone in the film
Hombre,
and Stuart Whitman worked with Boone in
Rio Conchos
.
In one of my favorite Westerns,
Big Jake
, Richard Boone portrayed vicious gang leader John Fain who demanded $1,000,000 for Jake McCandles' grandson's return. Above is John Fain from
Big Jake
.
During his career, he starred in three movies with John Wayne:
Big Jake, The Shootist,
where Mr. Boone had the role of Mike Sweeney, and
The Alamo
as Sam Houston. Yes, Mr. Boone played General Sam Houston in John Wayne's film
The Alamo
. Of course,
The Shootist
was John Wayne's final film.
John Wayne directed the 1960 epic and portrayed Davey Crockett. Richard Widmark played Jim Bowie, and Laurence Harvey was Jim Travis. The movie was nominated for six Oscars but only won for Best Sound.
I read that Richard Boone was aware of the financial problems that the film was having, so he refused a salary for his part as General Sam Houston. It's said that a grateful John Wayne gave him a Rolls-Royce and the buckskin coat he wore in the film as compensation.
It's a little known fact that Richard Boone dubbed the voice of the minister in the final scenes of the original Ocean's Eleven.
Hec Ramsey
So now, let's talk about one of my absolute favorite Westerns. In the early 1970s, Boone starred in the short-lived TV Western
Hec Ramsey
. If you've never heard of
Hec Ramsey
or remember it as I do, that's a shame because it was a wonderful Western television series.
Jack Webb produced
Hec Ramsey
. Boone first met Webb in 1954 when he played a police captain on an episode of
Dragnet
. Frankly, this series was really way ahead of its time. Imagine this for a moment, a CSI Western! Yes, that's what it was. It was about a turn-of-the-20th-century Western-style police officer, a detective, a man who preferred to use his brain and criminal forensic skills instead of his gun. Though that was the case, he had quite the reputation as a gunman in his own right.
At the time, there were all sorts of revolutionary things taking place in the world of Police Science -- including a new technology called "fingerprinting," firearm "ballistic" identification, physical evidence gathering was in infancy, all new to the late 1800s and early 1900s during the when
Hec Ramsey
was supposed to be taking place.
As for his role in
Hec Ramsey
, the character's background, he was a frontier lawman and gunfighter in his younger days. Now older, Ramsey is the Deputy Chief of Police of a small Oklahoma city. He is still a skilled shooter. But instead of carrying his custom made long barrel Colt as he did in
Have Gun Will Travel
as
Paladin,
Hec Ramsey carried a short-barreled Colt Single Action Army snub more suited for concealed carry. As he says in the first episode, it was a short-barreled pistol more suited for law enforcement and the close-in work that job entails. As he says, a rifle can be used for anything farther.
Hec Ramsey
had embraced the science of criminal forensics and was a skilled "criminalist" using crime scene evidence and science to solve crimes. Yes, imagine an older weathered
Paladin
doing an Old West version of CSI. That's really what
Hec Ramsey
was about. And by the way, Mr. Boone himself noted to an interviewer in 1972, "You know, Hec Ramsey is a lot like Paladin, only fatter."
In 1974, Richard Boone said, "I like this Hec Ramsey. He's dead honest. He walks right through all the ridiculous standards of Victorian America. He's Paladin, from Have Gun Will Travel, grown older. If Paladin had lived all those years, he would have run out of patience with the idiots and would've gotten as grumpy as Hec. He would have said to the dame, 'Lady, you're not in distress. You're just stupid.'"
And yes, as I'm sure you can tell, I really liked
Hec Ramsey
! It was a great show.
And after
Hec Ramsey
, Richard Boone returned to
The Neighborhood Playhouse
in New York, where he had once studied acting, to teach it in the mid-1970s.
In the 1960s and 1970s, Mr. Boone assisted the Israeli film industry at its inception. He appeared in the first Israeli film set outside Israel, the Western
Madron
(1970), set in the American West in the 1800s. In 1979, he received an award from Israeli Prime Minister Yitzhak Rabin for his contribution to Israeli cinema.
In 1965, he came third in the Laurel Award for Best Action Performance; Sean Connery won first place with
Goldfinger,
and Burt Lancaster won second place with
The Train
.
Mr. Boone was also the voice actor for the mighty dragon
Smaug
in the 1977 animated film of J.R.R. Tolkien's
"The Hobbit."
His voice acting in this role was very powerful and well-received.
As for his family?
Back in 1959, when
Have Gun Will Travel
was going strong, Richard Boone said this about his role as
Paladin
and as a father:
"What Paladin does to viewers, other than to entertain them is not my business. What he does to my son is my business. So here's how I handle it: First, I make no effort in Peter's presence to demean my work or knock Paladin. But I never let the importance of this fictional character overshadow the importance of Peter to me."
Mr. Boone's son with Claire McAloon, Peter, worked as a child actor in several of his father's
Have Gun Will Travel
television shows. Today Peter Boone resides in Virginia. In 1997, Peter Boone said this about his dad, "Dad never made me feel I had to live up to him. He always said he wanted me to be better than he was, and he meant it. I've tried to encourage my children the same way."
Richard Boone moved to St. Augustine, Florida, from Hawaii in 1970 and worked with
Cross and Sword's production
when he was not acting on television or in movies until his death in 1981.
He loved Directing
"It's the director who has all the fun. Any time a camera is involved, it's the director who tells the story, more than the writer, producer, or anybody else. And that's what I want to do."
- Richard Boone, 1960
"When I direct, I have only one request: 'Please, God, let the actor I'm directing put it all out there!' I'll take care of the excess. I'll trim it. But, don't give me an actor I have to light a fire under. Let him bite the scenery, and I'll cut away the excess!" - Richard Boone, 1972
In the last year of his life, Mr. Richard Boone was appointed Florida's cultural ambassador. During the 1970s, he wrote a newspaper column for the
St. Augustine Record
called
"It Seems To Me."
He also gave acting lectures at Flagler College in 1972–1973.
In his final role, Mr. Boone played Commodore Matthew Perry in
Bushido Blade
. He died soon afterward in St. Augustine of pneumonia while suffering from throat cancer. His ashes were scattered in the Pacific Ocean off of his beloved Hawaii.
His Filmography:
Halls of Montezuma (1951), Call Me Mister (1951), The Desert Fox: The Story of Rommel (1951), Red Skies of Montana (1952), Return of the Texan (1952), Kangaroo (1952), Way of a Gaucho (1952), Pony Soldier (1952), Man on a Tightrope (1953), Vicki (1953), The Robe (1953), City of Bad Men (1953), Beneath the 12-Mile Reef (1953), Dragnet (1954), The Siege at Red River (1954), The Raid (1954), Ten Wanted Men (1955), Man Without a Star (1955), Robbers' Roost (1955), The Big Knife (1955), Battle Stations (1956), Star in the Dust (1956), Away All Boats (1956), The Tall T (1957), I Bury the Living (1957), Lizzie (1957), The Garment Jungle (1957), I Bury The Living (1958), Ocean's 11 (1960), The Alamo (1960), A Thunder of Drums (1961), Rio Conchos (1964), The War Lord (1965), Hombre (1967), Kona Coast (film) (1968), The Night of the Following Day (1968), The Arrangement (1969), The Kremlin Letter (1970), Madron (1970), Big Jake (1971), Against a Crooked Sky (1975), Diamante Lobo (1976), God's Gun (1976), The Shootist (1976), The Last Dinosaur (1977), The Big Sleep (1978), Winter Kills (1979), The Bushido Blade (1981)
His TV credits include:
The Front Page (1949), Dragnet (1954), Medic (1954), Have Gun – Will Travel (1957–1963), The Richard Boone Show (1963–1964), Cimarron Strip – The Roarer (1967), The Mark Waters Story (1969), In Broad Daylight (1971), Deadly Harvest (1972), Hec Ramsey (1972), Goodnight, My Love (1972), The Great Niagara (1974), The Last Dinosaur (1977), The Hobbit (1977)
Yes, I've always been a big fan of his. And really, how could he not be one of my eternal heroes, he was Paladin, and like Maverick and Zorro, he was my youth -- my formative years when I was learning right versus wrong.
As for watching
Have Gun Will Travel
on the Western Channel these days? Well, I still love it. Though I have to admit that I now enjoy it with the eye of someone having a lot of life under my belt.
I can honestly say that I really understand now what Richard Boone meant when he talked about his
Hec Ramsey
character back in 1973 when he said, "Ramsey is a cantankerous SOB, so I felt qualified to play him. He's a rough old bear. He doesn't like pretense, and the word 'compromise' isn't in his vocabulary. He's my kind of guy, and I like playing him."
He was right when he said, "You know, Hec Ramsey is a lot like Paladin, only fatter."
I have to say that I really respect that sort of honesty. And really, I feel more akin to Richard Boone's honesty about his character
Hec Ramsey
. You see, besides also having "a magnificently ruined face," I can sometimes be a cantankerous SOB. And yes, that's the point about Richard Boone. Whatever role he played, he played it with everything he had to give.

Sophisticated or cantankerous, good guy or bad, he seemed to be a man who worked hard and was honest with what he wanted and what he left us. As for what he wanted? Well, he once said, "what I want, in a word, is to do the best work I can under the best possible conditions."

Because he achieved what he wanted, he left us great work from a great American actor, a wonderful Cowboy. He was a man who helped teach the difference between right and wrong to generations of Americans in a time when the good guy won and did right. Because of his ideas which he demanded to be present on-screen, he will always be America's immortal Paladin.
That's just the way I see it.
Tom Correa