Glencoe to Groveland
Living in the area that we do here in Glencoe, I've always kept in mind the scary possibility of the area going up in flames.
Yes, because this is the mountains and big tree country, fire is the scariest thing that I could ever imagine taking place here.
It is my constant concern, and the reason that I worry so much about those folks in the neighboring county who are having to fight this fire or flee their homes.
It is a real possibility that I think about each "Fire Season".
For our neighbors just South of us in the Groveland area, I can't tell you how I feel for them.
And no, not even Mother Nature is helping out.
Firefighters attempting to contain a 144,000-acre wildfire near Yosemite National Park are getting no help from the elements, which include wind gusts of up to 50 miles per hour.
The reason that this is so frightening is that it could be my property. Uncleared brush has fueled these tall trees.
On the local news, some reporter was talking about the "air quality" in Sacramento because of the fires.
While he's right in that the "air quality" has been affected, and I do understand what he is saying since the mountains up here where my wife and I live are in what looks like a state of thick fog, I would really think that there are greater concerns that a reporter can use his air time to talk about.
Today the Associated Press reported that the Yosemite wildfire "poses every challenge there can be."
This picture from yesterday, August 25th, 2013, show Inmate firefighters walking along Highway 120 as firefighters continue to battle "The Rim Fire" near Yosemite National Park, California.
Fire crews are clearing brush and setting sprinklers to protect two groves of giant sequoias as a massive week-old wildfire rages along the remote northwest edge of Yosemite National Park.
Firefighters battling a wildfire north of Yosemite National Park are calling it a "very difficult firefight," especially as high winds and dry conditions continue to fuel the blaze's momentum.
"This fire has continued to pose every challenge that there can be [in] a fire: inaccessible terrain, strong winds, dry conditions," Daniel Berlant of the California Department of Forestry and Fire Protection said on Sunday.
Yesterday was very windy around here, and all knew that that was not good news for the firefighters in neighboring Tuolumne County.
Firefighters were hoping to advance on the flames, but strong winds gusting up to 50 miles per hour in some places were threatening to push the blaze closer to Tuolumne City and nearby communities.
Yes, my heroes are not only Cowboys. These firefighters are some of the greatest people on earth. And yes, thank God for them!
"Winds are increasing, so it's going to be very challenging," said Bjorn Frederickson, a spokesman for the U.S. Forest Service.
Sunday evening, the Forest Service confirmed to KTVU that the fire had burned through the Berkeley Tuolumne Family Campsite, which was owned by the city of Berkeley, California, and had been in operation since 1922.
Firefighters were unable to immediately assess the damage, and it was not clear if any structures survived. The camp had been evacuated Tuesday and no injuries were reported.
The fire continues burning in the remote wilderness area of Yosemite, but park spokesman Tom Medena said it's edging closer to the Hetch Hetchy Reservoir, the source of 85 percent of San Francisco's famously pure drinking water, as well as power for a number of key buildings, including the airport.
The city has issued assurances that the water quality remains good, but the San Francisco Public Utilities Commission has shut two hydro-electric stations fed by water from the reservoir and cut power to more than 12 miles of lines.
San Francisco has been buying $600,000 worth of power on the open market to ensure San Francisco doesn't go dark.
The fire has consumed approximately 225 square miles of picturesque forests. Officials estimate containment at just 7 percent.
"It's a very difficult firefight," Berlant said. Frederickson added that the fire is slowing down a bit, but still growing.
Meanwhile, park officials are clearing brush and setting sprinklers to protect two groves of giant sequoias. The iconic trees can resist fire, but dry conditions and heavy brush are forcing extra precautions to be taken in the Tuolumne and Merced groves. About three dozen of the giant trees are affected.
"All of the plants and trees in Yosemite are important, but the giant sequoias are incredibly important both for what they are and as symbols of the National Park System," park spokesman Scott Gediman told the Associated Press on Saturday.
The trees grow naturally only on the western slopes of the Sierra Nevada and are among the largest and oldest living things on earth.
The Tuolumne and Merced groves are in the north end of the park near Crane Flat. While the Rim Fire is still some distance away, park employees and trail crews are not taking any chances.
Fire officials are using bulldozers to clear contingency lines on the Rim Fire's north side to protect the towns of Tuolumne City, Ponderosa Hills and Twain Hart.
The lines are being cut a mile ahead of the fire in locations where fire officials hope they will help protect the communities should the fire jump containment lines.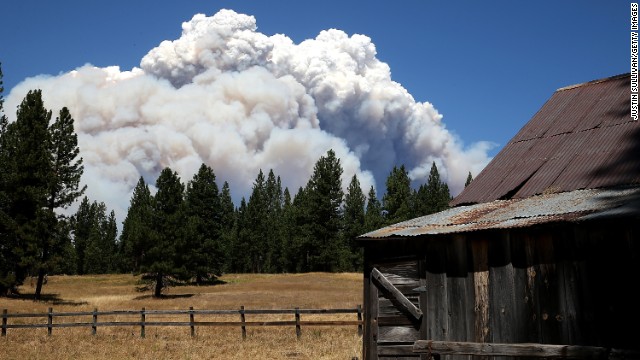 The high winds and movement of the fire from bone-dry brush on the ground to 100-foot oak and pine treetops have created dire conditions.
"A crown fire is much more difficult to fight," Berlant told The Associated Press Sunday. "Our firefighters are on the ground having to spray up."
The blaze sweeping across steep, rugged river canyons quickly has become one of the biggest in California history, thanks in part to extremely dry conditions caused by a lack of snow and rainfall this year.
Investigators are trying to determine how it started Aug. 17, days before lightning storms swept through the region and sparked other, smaller blazes.
The fire is the most critical of a dozen burning across California, officials say.
More than 12 helicopters and a half-dozen fixed wing tankers are dropping water and retardant from the air and 2,800 firefighters are on the ground.
Statewide, more than 8,300 firefighters are battling nearly 400 square miles of fires. Many air districts have issued health advisories as smoke settles over Northern California.
The Rim Fire burns close to Groveland Ranger Station near Yosemite National Park, California, August 23, 2013. Satellite photos show giant columns of white smoke from the fire drifting North and far into the neighboring state of Nevada to the East.
On Saturday, organizers cancelled the 24th annual Lake in the Sky Air Show at Lake Tahoe because of poor visibility.
The U.S. Forest Service says about 4,500 structures are threatened by the Rim Fire.
Berlant said 23 structures were destroyed, though officials have not determined whether they were homes or rural outbuildings. Some could be barns and sheds, while others could be homes being used at the moment or seasonal cabins.
Jessica Sanderson said one of her relatives gained access to the family's property in Groveland, just 26 miles from the park's entrance, on Saturday and was able to confirm their vacation cabin had burned to the ground.
The family saw firefighters on a TV news report a day earlier defending the cabin.
"It's just mind-blowing the way the fire swept through and destroyed it so quickly," said Sanderson, who's been monitoring the fire from her home near Tampa Bay, Fla. "The only thing left standing is our barbeque pit."
At the nearby Black Oak Casino in Tuolumne City on Sunday, the slot machines were quiet as emergency workers took over nearly all of the resort's 148 hotel rooms.
"The casino is empty," said casino employee Jessie Dean. "Technically, the casino is open but there's nobody there."
As thick smoke tells everyone that the fire is getting closer, and the area has been cleared of everyone but locals and emergency workers.
Dean lives on the reservation of the Tuolumne Band of Me-Wuk Indians and left her four children at relatives' homes in the Central Valley.
But the tourist mecca of Yosemite Valley, the part of the park known around the world for such sights as the Half Dome and El Capitan rock formations and waterfalls, remained open, clear of smoke and free from other signs of the fire that remained about 20 miles away.
Range cattle and bears?
These range cows are making a run for it in any direction they can find.
Along with bears, many critters are trying to get out of the way of the fire.
Sadly many won't make it out safe.
At Ike Bunney's dude ranch near the Sierra community of Tuolumne City, all of their critters have been evacuated as firefighters brace for an intense battle to keep a wildfire raging north of Yosemite National Park out of mountain communities.
"We've already evacuated the horses," said Bunney, who was keeping an eye on his Slide Mountain Guest Ranch on Sunday. "I think they're worried about the fire sparking over these hills."
As fire leapfrogs across the vast, picturesque Sierra forests, moving from one treetop to the next, residents in the fire's path are moving animals and children to safety.
Hundreds of firefighters were deployed Sunday to protect Tuolumne City and other communities in the path of the Rim Fire.
Eight fire trucks and four bulldozers were deployed near Bunney's ranch on the west side of Mount Baldy, where two years of drought have created tinder-dry conditions.
More than 12 helicopters and a half-dozen fixed wing tankers are dropping water and retardant from the air, and 2,800 firefighters are on the ground.
Statewide, more than 8,300 firefighters are battling nearly 400 square miles of fires.
Many air districts have issued health advisories as smoke settles over Northern California.
While Yosemite Valley is clear, the Lake Tahoe basin is thick with smoke, and many outdoor activities have been canceled in Reno, Nevada.
The U.S. Forest Service says about 4,500 structures are threatened by the Rim Fire.
While the firefighters do battle there and around the West, I pray for their safety and for those who they are trying to save.
Yes, this is a horrible sight.