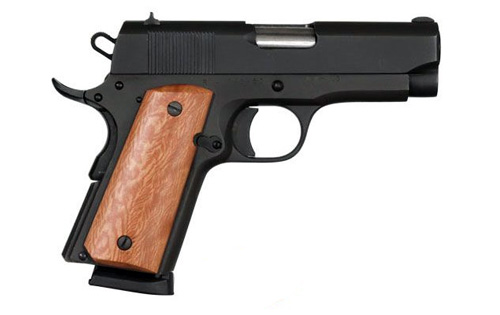 Let's take a look at the Rock Island Armory 1911-A1 Compact Service pistol (CS) in .45 caliber.
A few months ago, I went to my favorite gun store in the town of Ione, California, Rendezvous Primitive Arms, to take a look at this no-frills M1911A1 compact. The Rock Island Armory 1911 series is a product line of single-action recoil-operated semi-automatic pistols that is becoming very popular because of word-of-mouth.
Word had it that it is well made, reliable, and with no frills sells at a very good price. From what I could see, the rumors were correct. They are designed and manufactured by Armscor. And believe it or not, they are manufactured in Marikina, Philippines. They are distributed in the United States by Armscor USA which is located in Pahrump, Nevada.
The Rock Island G.I. Series line of 1911s are exact clones of the US Military G.I. M1911A1 using the Colt Series 70 design features. To be more accurate, their 1911s are based on the original M1911A1 design of years gone by.
As most shooters already know, the model 1911 pistol is a semi-automatic, magazine-fed, recoil-operated pistol chambered for the .45 ACP cartridge. It is a single-action for the first shot if the gun is not in Condition One with the hammer already cocked and safety on.
The US M1911A1 was the official sidearm, the standard-issue, US "Service Pistol" from 1911 to 1985. It was first used in later stages of the Philippine-American War upon its adoption by the US Army, Navy, and Marine Corps in 1911. And yes, it was widely used in World War I, World War II, during the Korean War, in the Vietnam War, and a decade beyond that.
During World War II, many companies like Singer Sewing Machine Company who are not really known for producing firearms also made the M1911A1.
Though not the official issue, the M1911A1 is still carried by some U.S. elite forces such as the United States Marine Corps. Its formal designation as of 1940 was
Automatic Pistol, Caliber .45, M1911
for the original Model of 1911.
In 1924, after a few small changes, the
Automatic Pistol, Caliber .45,
was redesignated the
M1911A1.
The designation changed to
Pistol, Caliber .45, Automatic, M1911A1
took place during Vietnam.
In total, the United States procured around 2.7 million M1911 and M1911A1 pistols in military contracts during its service life. Yes, over 2.7 Million!
While the M1911A1 was replaced by the 9mm Beretta designated the M9 pistol as the standard U.S. sidearm in the early 1990s, due to its popularity among users the M1911A1 has not been completely phased out for us by the US military. In fact, Marine Corps Special Ops Command (MARSOC) carries the M1911A1 in a modernized version called the M45. Modernized yes, but still a 1911!
Designed by John Browning, the M1911 is the best-known of his designs to use the short recoil principle in its basic design. The pistol has been copied all over the world, and this operating system has become the preeminent type of nearly all modern semi-automatic pistols.
Compact variants like the Rock Island Armory 1911 CS are popular for civilian concealed carry weapons, because of the design's inherent slim width and the stopping power of the .45 ACP cartridge.
Most Rock Island Armory models are targeted for the low-end price point of the 1911 pistol market and are basic entry-level MIL-SPEC versions of the 1911. However, the RIA Tactical, Compact, Officer, and Match models offer additional semi-custom high-end features.
Unlike the Officer model, the Compact model (CS) features a combat style hammer and enhanced beavertail grip safety. The Tactical model also adds a target-grade hammer and trigger, as well as an ambidextrous safety and enhanced contrast combat sights.
Armscor is an ISO 9001 certified-compliant company that manufactures Rock Island pistols using CNC (Computer Numerical Control) equipment. The Rock Island Armory 1911 series pistols are constructed of 4140 Chromoly steel with a cast frame.
The Rock Island Armory M1911-A1 CSP

Dimensions:
Type: Compact
Weight: 34.6 oz
Length: 7.0″
Height: 5.1″
Width: 1.50″
Barrel Length: 3.5″ (Bull Barrel)
Design:
Operation: Semi-automatic, Short recoil
Firing System Design: Series 70/Base 1911A1
Caliber: 45 ACP
Capacity: 7+1
Trigger: G.I. Style
Frame: Ordnance-grade 4140 steel
Slide: Ordnance-grade 4140 steel
Finish: Parkerized
Grip: Smooth wood
Sights: Fixed
Safety: Frame-mounted manual safety, Grip safety
Hammer: Combat Style
Rifling: Right-hand with 6 grooves
Rifling Twist: 1 in 16
The Rock Island Armory 1911-A1 Officer meets all of the standards needed for a great conceal-carry weapon.
Choices Choices
If you are a person with a CCW permit or thinking of getting one, this pistol happily meets the standards needed for concealability, firepower, and overall suitability for concealed carry. Fact is, most 1911s are commonly used for concealed carry thanks in part to a single-stack magazine which makes for a slim pistol profile that is, therefore, easier to conceal.
If local laws allow you to carry a concealed firearm, choosing the right handgun to defend your life outside of the home depends on many factors. While many only list factors such as the weapon's size, weight, caliber, and capacity of which all come into play, I also see factors such as operational knowledge, familiarity, and ease of use as paramount to choosing the right carry-weapon.
It would be a shame if one were to have a great hideout gun for their concealed carry-piece, but failed to pass rudimentary operating knowledge or no familiarity with the weapon to make it useful in a stressful situation.
As for ease of use, well that's why some like revolvers and some like semi-autos. It is a matter of personal choice as to what you find easier to use -- especially when needed to defend yourself.
Though I started shooting at a young age with my grandpa's revolver and was later indoctrinated to accept the premise that revolvers are more reliable than semi-autos, I have come to love the M1911A1.
I was trained in the Marine Corps with the M1911A1 pistol over 45 years ago, and have subsequently used one since then. For me, my choice of a 1911 fits my operational knowledge and familiarity with the weapon. And as for ease of use, the 1911 is very easy to use once trained in how to use it.
With 40 U.S. states having "shall-issue" concealed carry laws, and since many police and sheriff's departments are unable to respond in a timely manner, many law enforcement professionals recommend getting your concealed carry permit. With more and more citizens accepting responsibility for their own personal protection by obtaining a concealed carry permit, a good concealed-carry handgun is good to find.
All in all, since I liked what I saw -- I bought one.
After purchasing the Rock Island 1911-A1 CS, I waited the mandatory 10-day waiting period to pick it up. After picking it up, I went home and cleaned the packing grease off of it, and oiled it. It has been my experience that 1911's love oil.
Once cleaned and ready to fire, I fired 100 rounds through it on the range on my property. Shooting a 20-inch target at 15 feet was no challenge at all with the factory settings of its sights held at center mass. Shooting a 10-inch target at 30 feet was still no challenge if I held the front sight post at 6 o'clock. I found the sights aligned to and put 100 rounds through it
As for reliability, the pistol that I have bought had shot reliably. I can say that it shot extremely well right out of the box and that was great to see. And yes, without cleaning the pistol, I took it out the following day to see how it would perform after being fired but not cleaned. That day I put 200 rounds through my new pistol, and again I did not experience a single hiccup.
With accuracy results that I had on my range, and since it functioned without a failure of any sort after 300 rounds, this all tells me that this pistol would make a reliable personal carry gun for self-defense. My personal choice for a carry gun is the stopping power of a .45 ACP.
For me, the Rock Island Armory 1911-A1 CS model fits the bill of a great reliable conceal pistol that sells at a great piece -- although who knows how long that will last as word gets around that this compact shooter is a great deal that shouldn't be passed up!
And yes, that's how I see it.
Tom Correa